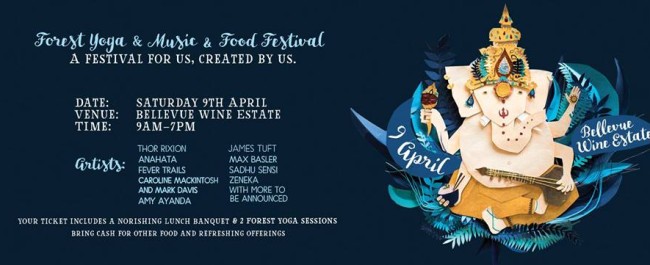 TICKETS AVAIBLABE AT WEBTICKETS.CO.ZA
www.webtickets.co.za
On Saturday 9th April we will holding an intimate gathering at Bellevue Wine Estate in Stellenbosch, combining music, installation, yoga and food.
Omni Yoni is a one day festival to celebrate 'doing the work'.
An ode to the experience of doing, whether it be creative work, self work, the work of service or the act of working with one another.
A festival for us, from us.
Creating a time and providing a space to come together to celebrate our beings for the continuous work we are involved in.

Music Artists:
Fever Trails
James Tuft
Thor Rixion
Amy Ayanda
Caroline Mackintosh and Mark Davis
Max Basler
Sadhu Sensi
Zeneka
ANAHATA
Food:
Your ticket includes a Norishing Lunch Banquet by The Concious Cook.
Bring cash for other food and refreshing offerings
Lunch Box offerings
http://www.lunchboxcatering.co.za/
Food & Decadence byTake the Cake
Yoga
2 Yoga sessions