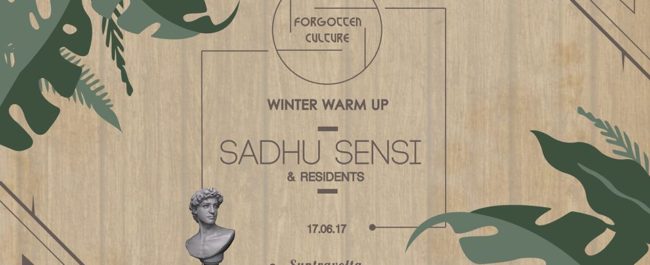 Forgotten Culture pres. Sadhu Sensi – Winter Warm Up – 17 JUNE
It's been a while, but we're back and ready for the winter months. To start it off we thought we'd slow things down and really ease into the club season. So join us on the 17th of June for our Winter season Warm Up.
Weather forecast?
Gusts of house music spanning the likes of jazz, multi-cultural, melodic, dub, shamanic, french, lounge and ambient, coming in deep and soulful with a slight chance of downtempo, desert and ethnic techno showers and acid rain…
LINE UP ♪
Born at the tip of Africa, Sadhu Sensi has spent most of his life in music and nature. His sound is an eclectic mix of organic and digital instruments, blended into a downtempo, ethnic grooving vibe. He has traveled far and wide with his music collecting sounds and uplifting consciousness through music. Having recently released music on Iboga records and performing atBoom Festival Official the journey continues into the cosmos..
And our residents…
Nativesound
>https://soundcloud.com/nativesoundsa
PEACH
>https://soundcloud.com/peachysound
SunChoke
>https://soundcloud.com/sun-choke
VENUE ✿
Suntravolta – To start things off we've chosen a relatively new and very laidback, island style space on long street which we will be taking over and making our own for the night.
Please note space is very limted, so arrive early to avoid waiting in line. Doors open at 8pm.
DRINK SPECIALS ✪
10pm – 11pm:
R19 – Tafel / Black label / Savanna
R25 – DBL Brandy + Coke
R25 – DBL Vodka + Lemonade
TICKETS ϟ
Available at the door:
R60 before 11pm
R80 After 11pm
We can't wait to have you all back 💛