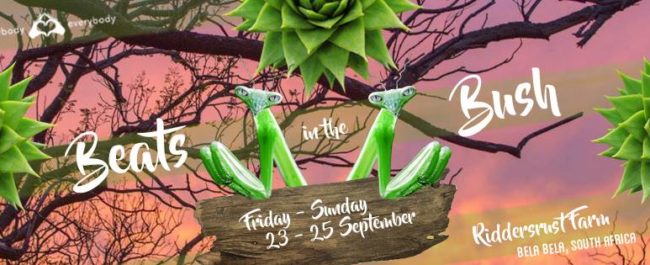 ELE Presents Beats In The Bush (Jhb) 25 September
Sadhu Sensi – Midday – Sunday 25 September
***With the wind in your hair and the sand in your feet –
the vibe so electric as you feel the beat.
Arriving as strangers and leaving as friends –
a new family thats yours, thats yours till the end.
Sunshine sneaks through the cracks in the trees –
honeys so fly you'll be looking out for bees.
its time to come alive, come alive for a cause
come alive on an adventures in the great outdoors.
Bring with you a whole heap of fun,
an array of smiles and laughter by the ton.
Get ready to boogy those boogy bodies down to the bones…
get ready, get set, lets go go go**
Everybody Love Everybody is delighted to invite you wierd and wonderfulls to the farm once again as Beats in the Bush 2016 rolls out its carpet and welcomes you all in.
The home of this boutique outdoor festival, The Riddersrust Farm has been subjected to land claims and therefore this could, in all likelihood, be the last of these 3 day extravaganzas… which has pushed us to bring out all the stops and make it the BEST one yet!
TICKETS ARE LIMITED TO 800 so be sure to keep a lookout for our release dates. Spreading the word wide and far so all the friends that any friend could dream of can be there friending about. Friends who dont tell friends about Beats tickets arent the kind of friends that friends befriend.
***FOOD VENDORS*** will be there day and night to feed those hungry beks inbetween dance offs and treasure hunts. No open fires are allowed so bring snacks but come hungry. There might be whispers of some thai noodling in and around those beks so keep your eyes out for what's in store.
***CAMPING*** is always a vibe so camp you must. There are some dedicated camp masters, who, for a small pettance will delight you in a tented heaven if that tickles those camping tastebuds. Alternativly come and set the beasts up yourself, it is after all a weekend supporting full blown radical self reliance – maybe even surprise yourself.
***DANCE FLOORS*** come in threes, and three is our favourite number! Coincidence? We think not! There will be The Beach floor slamming some sunshine tunes by the pool, The Band stage throwing down the classics under a tented paradise and ofcourse The Main stage shaded by the umbrella roof of heaven – Yes it cant get any better!
Stay tuned folks – this could maybe just be the wind under your wings that eventually leads you to fly!
The ELE Team are excited to invite you all to our little slice of heaven. Come along and share a moment or two with some of the freethinking, like-minded Lovers of our generation.
We are, as always, 100% not-for-profit and are delighted to announce some more benficiaries on our list beautiful
➢ St Jane's de Chantal Home
➢ Ntataise Day Care and Orphange
➢ The Sunshine Sanctuary of Plettenberg Bay
➢ The Soccer Grannies of Limpopo
★★★★ TICKETS ★★★★
▷ ONLINE:
PHASE I ST JANES – R450
PHASE II NTATAISE – R550
PHASE III SUNSHINE SANCTUARY – R650
*ONLY TWO TICKETS PER PURCHASE
*RELEASE DATE 26 July 2016 12pm
*TICKET LINK : http://ele.nutickets.co.za/BITB2016
★★★★ DIRECTIONS ★★★★★
Just Type "Everybody Love Everybody' into google maps and the route will be shown – neat hey? ;)
or
From Joburg:
Head North on the M1
Go past Grayston, Woodmead off-ramps etc
Continue onto the N1 (North) passing the Allendale off-ramp towards Pretoria.
It is important to stay on the N1 – so take exit 124 to merge onto the N1 toward Pretoria EAST / Polokwane – Don't miss this turn!
Once you have gone through 2 toll gates (R48.50 in total DRAW CASH) drive +- 11km.
Take exit 205 – Rust de Winter / Pienaarsrivier
Turn left toward R101
At t-junction turn right onto the R101 towards Bela Bela
Go through the weigh station, pass the road works and take the first road to the right (Mackensie road).
Go over the bridge and onto the dirt road
Turn into the first farm on the right (Boshveld)
Follow the E.L.E signs, open the windows, listen for the music on the horizon and get ready for an epic weekend!!
Distance from Joburg – 135 kms
Average Travel Time – 1 h 20 mins
★★★★ CASH FACILITIES ★★★★★
Cash only at the door. Card facilities at the bar which carry a R10 transactional fee. There are no ATM's at the festival so bring enough cash.
★STRICTLY NO★
Glass bottles – decant your drinks into plastic bottles before you come in, Under 18's ID on request, Fires, Weapons, Domestic Animals, Independent sound systems, Bad Attitudes, Illegal substances, Don't Drink and Drive. P.L.U.R.
★RIGHT OF ADMISSION RESERVED★
Entry is entirely at your own risk. The promoters accept no responsibility whatsoever for injury, death, loss or damage of any nature to persons, vehicles & belongings. This applies even to negligence of any kind by the promoters, venue and contractors. Due care has been taken to make this event safe & secure. All rights reserved.
There will be Zero Tolerance approach toward Crime at the event. Extra precautionary measures have been taken this year to insure you have a Safe and Wonderful Time!!
•.•.•.•.•.•.•.•.•.•.•.•.•.•.•.•.•.•.•.•.•.•.•.•.•.•.•.•.•.•.•.•.